Workations and holidays in San Vigilio.
AMA STAY. YOUR ACCOMMODATION AT PLAN DE CORONES
One place, one community, endless inspiration. At AMA Stay, a unique living concept for both short and long stays meets minimalist design, technological evolution, authentic Ladin hospitality and South Tyrolean cuisine. Perhaps you are happy with a hotel room and the chance to make the most of the amenities, or maybe you would rather enjoy the complete freedom and independence that a holiday apartment in San Vigilio has to offer – whichever you are looking for, you will find it here.
AMA Rooms. Views of the Dolomites included.
For relaxing, working and living.
For holidays, work or both. Whatever your focus, our AMA Rooms are made for you: a workation in an apartment with an integrated kitchen, a holiday alone or as a couple in a cosy and stylish room or even with family and friends in one of our large holiday apartments here at Plan de Corones. Check out our three room categories ranging from small to more spacious. Views of the Dolomites included.
Your accommodation
South Tyrolean, cosmopolitan, a leisurely pace
EATING & DRINKING
The AMA culinary concept builds on the same versatility and quality prevalent throughout the hotel. Whether it be in our restaurant with its sustainable sharing philosophy or in your studio with your favourite meal prepared using fresh ingredients from our market – it is up to you to decide how, what and where. Our bistro is the perfect place to enjoy a drink and a small snack at any time of day. You can spend your morning here with freshly brewed coffee, tea or smoothies and in the evening enjoy a good glass of South Tyrolean natural wine, a gin fizz or a non-alcoholic beer. Everything in your own time and according to your mood.
Alpine mediterranean Soul Food
Restaurant
AMA RESTAURANT
In our AMA Restaurant we are passionate about the local South Tyrolean cuisine whilst building bridges from south to north and focusing on nature and the products it gives us. We love healthy trends and embrace the concept of sharing. Marco, our chef, cooks "alla nonna", like Grandma used to. He maintains the tradition of good honest Mediterranean cuisine, calmly and carefully prepared with a modern twist. He loves nothing better than using the produce from our own vegetable patch and cooks according to the seasons. His passion is to make you and all the other guests that little bit happier. Needless to say, you can also find a selection of mouth-watering vegetarian, vegan and gluten-free dishes on our menu.
Your gourmet experience
Good drinks, casual atmosphere
Bar & Bistro
AMA BISTRO
Our bistro is both a café and a bar, making it the perfect place to socialise or relax throughout the day. Whether it be a freshly squeezed juice with your morning newspaper, a coffee to ensure a productive night shift or perhaps a sparkling aperitif or digestif over good conversation – in our hotel in the Dolomites with its comfortable lounge, there are plenty of ways to enjoy life.
Your happy place
San Vigilio in the protected area of the Fanes-Sennes-Braies Nature Park
DISCOVER LADINIA
Our hometown of San Vigilio is a wonderful retreat in the South Tyrolean Dolomites and a beautiful starting point for hikes, bike adventures and winter fun. In the Val Badia valley in the land of the Ladins, surrounded by majestic mountain peaks, we have our very own identity expressed through our own Rhaeto-Romanic language, culture and craftsmanship.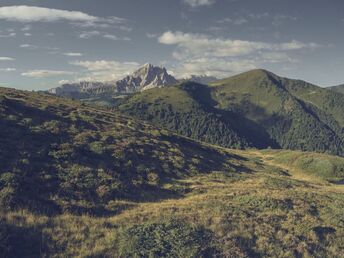 As pioneers of sustainable tourism, we were one of the first destinations in the world to be certified according to GSTC standards. As a designated UNESCO World Heritage Site, we ensure it is looked after. We invite you to appreciate this unique natural beauty. We have a deep connection with our local area as well as with our guests who wish to embrace all of this with us.
Destination
Event venue at Plan de Corones
CELEBRATE AT OUR HOTEL
Culture is in our blood. Just like alpine sports, winter pursuits and partying. This is why we love it when the hotel is lively and people are laughing, dancing, playing music and performing in San Vigilio. Are you looking for an event venue in South Tyrol, preferably in the Dolomites? Then come and celebrate with us. We will be happy to advise you.
Events & Attractions
EXPERIENCE PLAN DE CORONES
Whether it be local events, international skiing highlights or large-scale events, there is always a good reason to come to the mountain village of San Vigilio di Marebbe and experience something together. The Plan de Corones holiday region is not only our home, but also one of the most exciting event locations in South Tyrol.
Your highlights
Celebrations
Love celebrating
At our hotel, you can celebrate to your heart's content. Love, life and achievements. Are you looking for a wedding venue in South Tyrol? Or perhaps somewhere to hold a lavish anniversary celebration or your own special event. Look forward to special days that will be cherished forever. Designed from the heart and professionally organised.
Your party
Parking
PARK AT OUR HOTEL
Regardless of the occasion, if you arrive by car, you will find a secure and covered parking space in our underground car park. Our car park also has a free charging station for your e-car.
Your parking space
Book your stay
Your holiday, your workation, your coworking space in the Dolomites
Have we answered all your questions and managed to impress you with our rooms and services? If so, then let's go. Choose a suitable room category and book your stay with us! We look forward to seeing you!
There is just one shortcut to the top.
Be the first to get the news! Register now and you can look forward to receiving exciting news, great specials and interesting stories about AMA Stay, your workation and holiday base in San Vigilio.